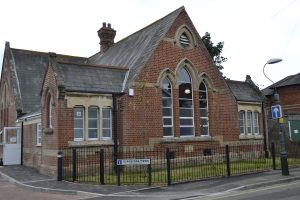 TOSH (The Old School House) is part of the development at Gladstone Mews, where our share ownership homes are also located. Refurbished in 2014, TOSH offers facilities for the creative sector, providing spacious co-working pods, hot desking, free parking and private meeting spaces. It also provides a large room available for hire for both business and community use.
TOSH is a beautiful Victorian building, originally built as a school which was opened in 1878 by Sir Percy Florence Shelley son of Mary Shelley, the famous novelist and author of Frankenstein. As the school moved to larger premises, the building became the award-winning Bournemouth Drama Centre, where former pupils included choirmaster and broadcaster, Gareth Malone and fashion designer Graham Fraser.
The building still retains its magnificent open timber-framed ceilings and grand fireplaces which are now complemented with a stylish, contemporary interior, providing comfortable and relaxed co-working spaces, meeting rooms and the larger Assembly Hall.
For further information visit the TOSH website toshspace.co.uk